05 June 2016
Swaziland's People's United Democratic Movement (PUDEMO) has reliably learnt that the Tinkhundla Minister of Natural Resources and Energy, Ms Jabulile Mashwama, is planning to attend and address a conference focusing on Water Technology hosted by the Apartheid State of Israel in Johannesburg on Monday, 6th June at The Venue, Melrose Arch. This conference is said to be called to discuss "water solutions and the role Israel can play in solving the challenges of draught engulfing Southern Africa."
While PUDEMO is not at all surprised by the relationship between these two despotic regimes, it is however concerned that the People of Swaziland's name is being used to lend support to the internationally discredited and increasingly isolated Israeli regime.
The said Ms Mashwama, herself a representative of an illegitimate regime, does not represent the true feeling of the freedom and peace loving people of Swaziland in supporting Israel.
The People of Swaziland are unashamedly in full support for the liberation of Palestine and continues to associate themselves with the peoples of the world in calling for the Isolation of Israel and the end of the genocidal activities that Israel is committing in the occupied territories of the Palestinian people.
It is indeed laughable that a State of Israel that is internationally known for diverting streams of water that had been the lifeblood of the Palestinian agriculture for centuries can want to lecture the people of Southern Africa about water solutions, the continued illegal confiscation of Palestinian water and land resources is also a dominating element  of the Israel occupation.
Israel must first restore water supply to the people of Palestine and ensure that the grossly unequal per capita distribution of water between the two states is addressed before it can want to lecture us about water conservation.
PUDEMO as a member of the International Boycott, Divestment and Sanctions (BDS) Movement will continue to participate in BDS activities and mobilise and lobby all peace loving citizens of the globe to Isolate Israel and to expose it's genocidal activities in the occupied territories of Palestine.
We further call upon the morally bankrupt Tinkhundla regime to reconsider the participation of Ms Mashwama in this clandestine gathering that is principally meant to lend support to the international isolated Israeli government. It is not too late for the Tinkhundla regime to make the right decision and choose peace over genocide.
Issued by PUDEMO Secretary General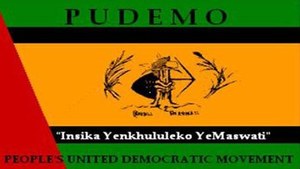 Cde Mlungisi Makhanya
+268 7635 7528
mcmakhanya@yahoo.com