PRESS RELEASE: South Africa Adopts Visa-Free Travel for Palestinians – A Landmark Decision
22 September 2023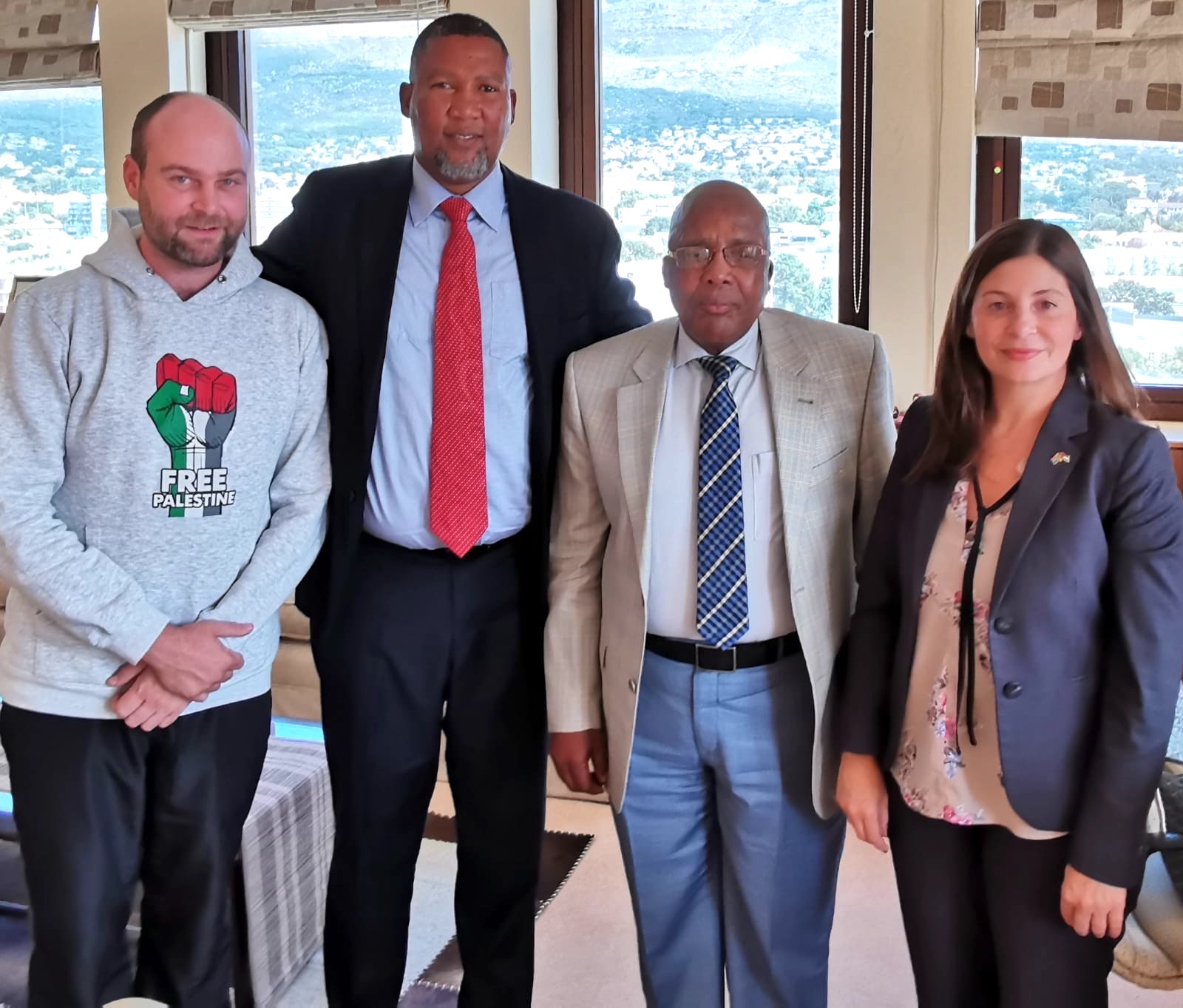 South Africa's Minister of Home Affairs Dr Aaron Motsoaledi meeting with Africa4Palestine, Chief Mandla Mandela (MP), and Palestinian Ambassador Jarrar on the issue in 2020
The human rights organization, Africa4Palestine, applauds the South African government's landmark decision to offer visa-free entry to Palestinians visiting South Africa.
This move comes after efforts and campaigning by Africa4Palestine, MRN, NFP as well as other dedicated groups and individuals including Chief Mandla Mandela MP (ANC) and Ahmed Munzoor Shaik Emam MP (NFP). In particular the persistency of the MRN should be noted and we also commend the recent ANC National Conference last year where members concretised the party's support on the matter.
Africa4Palestine together with Chief Mandla Mandela (MP) and Palestinian Ambassador Hanan Jarrar held extensive discussions from as far back as 2020 with South Africa's Home Affairs Minister Dr Aaron Motsoaledi and Deputy Minister Njabulo Nzuza. We thank both Minister Motsoaledi and Deputy Minister Nzuza for their engagements and proactive approach on this significant matter.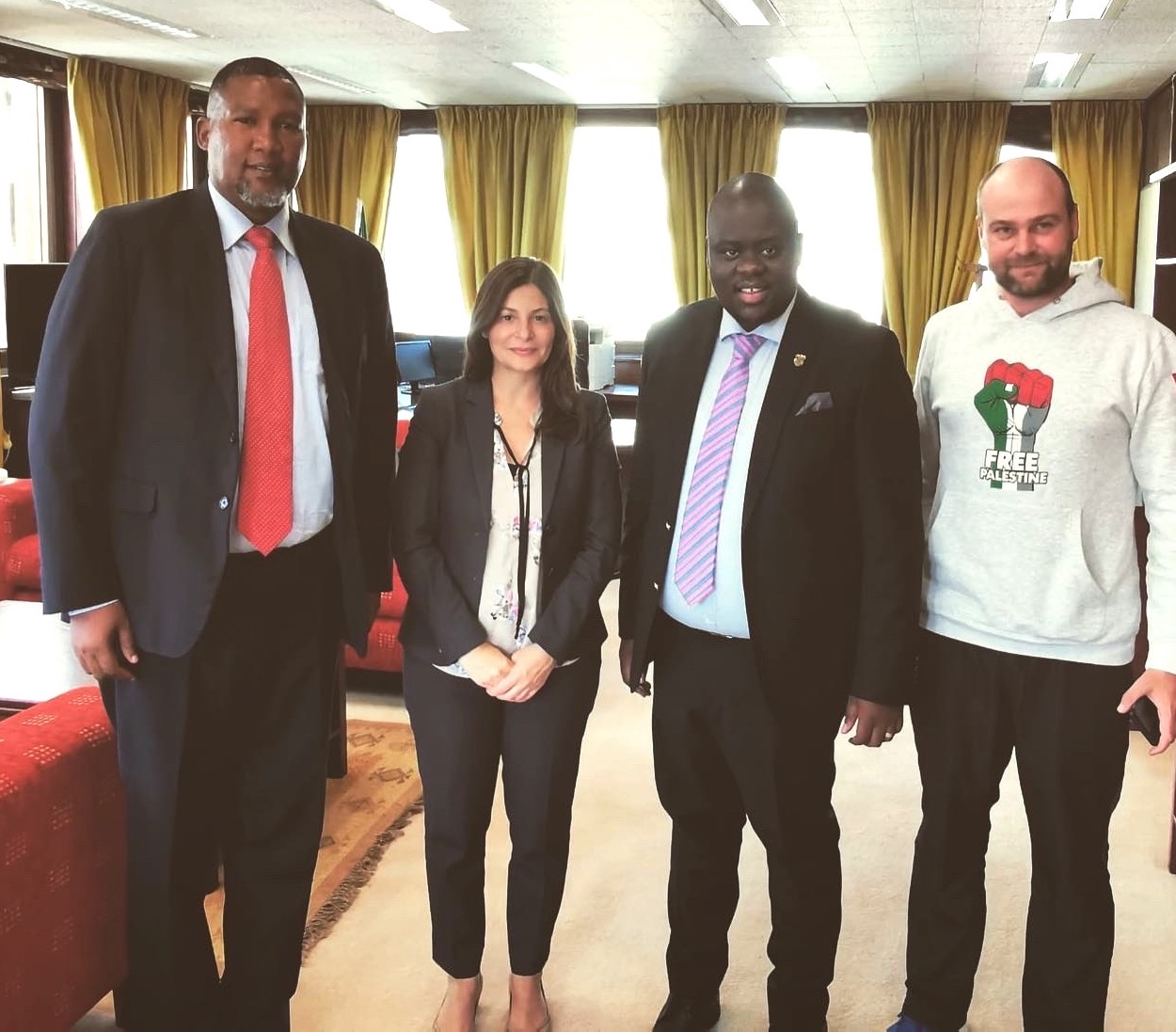 South Africa's Deputy Minister Njabulo Nzuza, Africa4Palestine, Chief Mandla Mandela (MP) and Palestinian Ambassador Jarrar foll0wing engagements in 2020
Today, as we celebrate this progressive step by our nation, we are reminded of our former President Nelson Mandela's words in 1997: "We are proud of the modest technical assistance that our [South African] government is offering Palestine… but the various discussions with our counterparts in Palestine are an indication that we can do more."
Indeed, Africa4Palestine remains deeply committed to the ideals of Nelson Mandela, and will continue to lobby, advocate and campaign for greater Palestinians rights as well as for holding Apartheid Israel accountable for its violations on international law and human rights.
ISSUED BY MUHAMMED DESAI ON BEHALF OF AFRICA4PALESTINE
Africa4Palestine Spokesperson, Tisetso Magama: +27 (0) 68 203 1618
Africa4Palestine Media Liason, Alie Komape: +27 (0) 76 979 8801
AFRICA 4 PALESTINE
Suite 3 | Park Center | 75 12th Street | Parkhurst | Johannesburg
PO Box 2318 | Houghton | 2041 | Johannesburg
T: +27 (0) 11 403 2097 | F: +27 (0) 86 650 4836
W: www.africa4palestine.com | E: info@africa4palestine.com | TikTok: www.tiktok.com/@africa4_palestine
www.facebook.com/africa4palestine | www.twitter.com/africa4pal | www.instagram.com/africa4palestine | www.youtube.com/africa4palestine
Africa4Palestine is a registered Non-Profit Company. Registration Number: 2020/549404/08
Africa4Palestine is a registered Section 18 Public Benefit Organization. Registration Number: 930071587